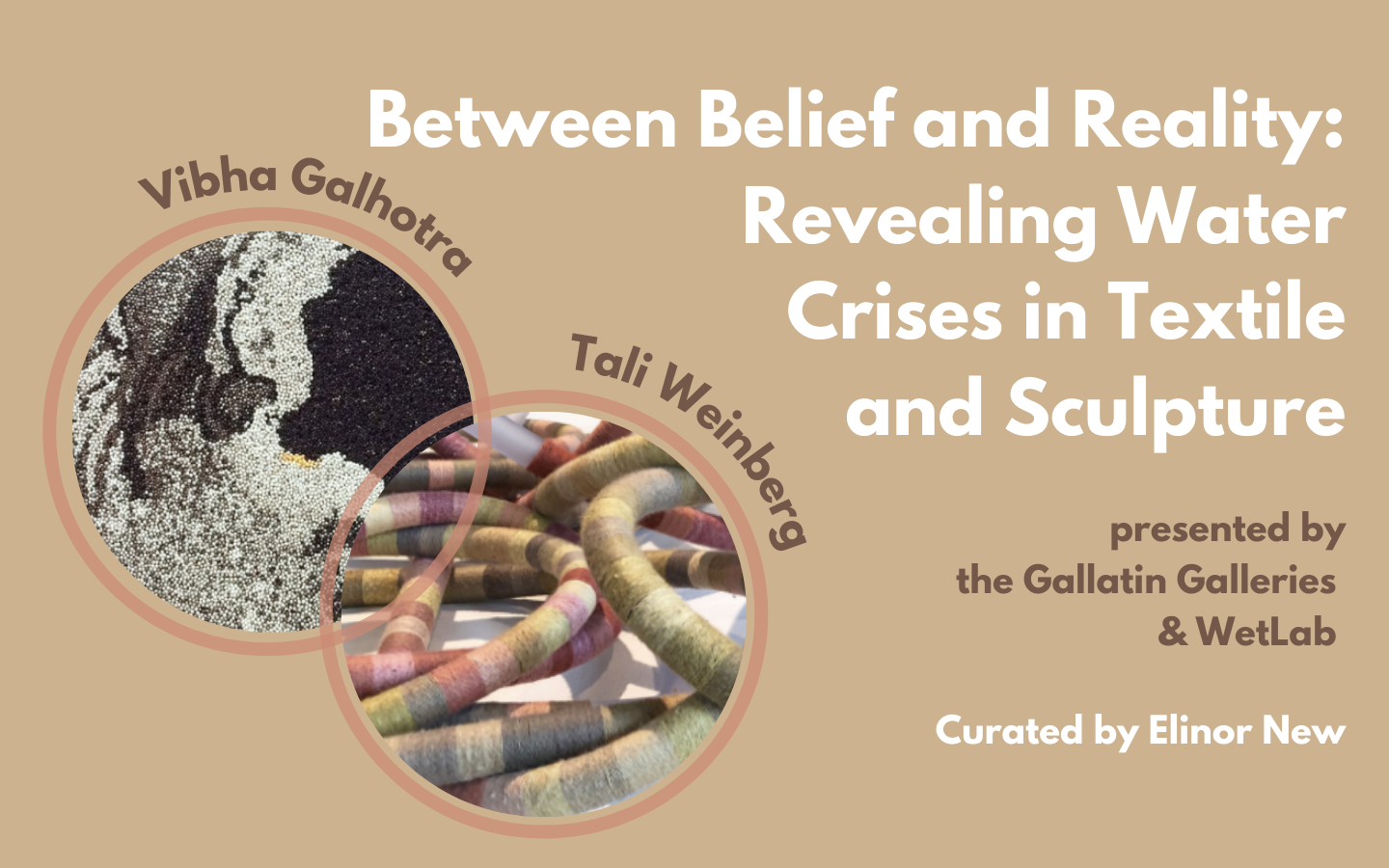 How do artists transform scientific observation to reveal the realities of water crises in the face of denial, dismissal, and inaction?

In their sculptural artworks on the impacts of water insecurities, both Vibha Galhotra (India) and Tali Weinberg (USA) reach beyond documentation to create artworks that layer emotion, cultural heritage, and activism. From revealing the Yamuna River's tangible toxicity using ghungroo bells in Vibha Galhotra's
Flow
sculptures to re-inscribing scientific data on drought, illness, and temperature changes in Tali Weinberg's
Woven Climate Datascapes
, these artists employ beauty, shape, and color to prompt viewers to examine the gaps between their perceptions of water crises and their entangled realities. In this conversation, the two artists discuss their investigative creative processes and share artworks that subvert viewers' expectations and transform visible realities into emotional understanding.
Access the event recording and artist bios here.
---
Lingering: reflections, questions, and scores for continued engagement

in collaboration with Ayaka Fujii
"I trace relationships between climate change, water, extractive industry, illness, and displacement; between personal and communal loss; and between corporeal and ecological bodies." – Tali Weinberg
How do you trace the relationships between corporeal and ecological bodies?
Ask someone close to you / Have a conversation around:
"Where do we come from? What are we? Where are we going?" (from Vibha's works)

Where do belief and reality intertwine in issues of climate crises?

What scales of time do you feel and archive?

What kind of data does your body hold?

What do you labor over/in? Where does your labor live in relation to your ecological and cultural lineages? Do you find labor in ritual, or ritual in labor?

What is sacred to you? Where is sacred to you?

Your/my/our body is sacred.
Your/my/our body is polluted.
Your/my/our body is ebbing.
Your/my/our body is flowing.
Your/my/our body is cyclical.
Your/my/our body is porous.
Your/my/our body is water and its edges.
---